Wat Suthat & The Giant Swing Bangkok
Wat Suthat is one of the oldest in Bangkok, and instantly recognizable from the roof architecture which is similar to that of the Grand Palace.
This is very much the heart of old Bangkok, near the Chinatown district and the National Monument.
Inside the temple there is one of Bangkok's finest Buddha images. The main Buddha image, Phra Si Sakayamuni was orginally cast in the Sukhothai period (1238-1438 A.D.)
Eight-metres tall, on a six-metre pedestal, the image is the largest bronze-cast one in the kingdom and considered one of the most beautiful Buddha images in Thailand.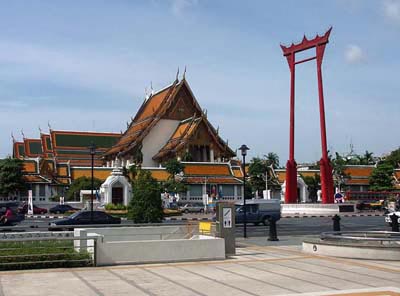 Another fine feature on the outer walls of the temple are the wall paintings or frescoes, regarded as some of the best in Thailand.
The Giant Swing
Outside, The Giant Swing is at the centre of a traffic flow, but again is very easy to spot.
The high red construction was originally a huge arch with a swing underneath where people used to celebrate the rice harvest
Furthermore, it was used competitively in a contest designed to seek the brave man who could swing the highest to seize a money bag from a 25-metre-high pole.
After countless injuries and even deaths due to high level antics on the swing at the festivities, the Giant Swing ceremony and the contest was discontinued in 1934.
What remains is the framework of the swing, but is no the less, and interesting place to visit along with Wat Suthat.
With an 
admission fee of 20 baht
, the temple is 
open daily from 9.00 a.m. to 8.00 p.m.
Getting to Wat Suthat & The Giant Swing
: Take the Skytrain to National Monument and then take a taxi.
If need some help for
000-654
and
000-332
then get the latest
642-902
compiled by our certified experts to help you pass
70-640
in first attempt. You can also download
642-427
.
Our
648-375
and
646-206
exam provide you 100% pass guarantee. You can get access to
VCP-510
and
N10-005
with multiple prep resources of
CAS-001
.
Tell your friend about this page!
-
Hotel search