Erawan Shrine Bangkok
Pass by on the BTS Skytrain on any day of the week, and visitors will see the Erawan shrine attracting a lot of attention from the local Thai people.
The Erawan is just on the corner of Ratchadamri and Ploenchit Road, and really looks like many other 'corner' shrines in Bangkok.
But one of the oddest points is that, in a Buddhist country, this is in fact a Hindu shrine.
However, offering prayers and gifts here is meant to bring good luck, so that's good enough for many, regardless of their religion.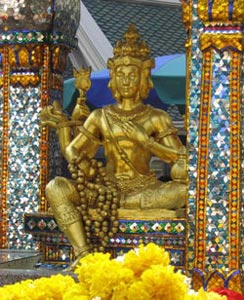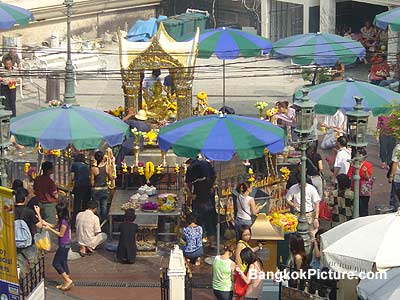 The story is that during a construction project at this corner, in 1956. There were 'evil spirits and bad karma' about and the project. It was known as an unlucky site with casualties, and high costs.
Much was blamed on the fact that the foundations were laid on the 'wrong date'.
So, after consultation with an astrologer. It was advised a shrine should be built, but on the 'right date'
After that, everything went fine and the project was finished without further mishaps.
Countless Thais and other Asian tourists who seek good luck visit this very popular shrine, as it is reputed to have the power of granting wishes.
Many come to pay homage by offering flower garlands and pray to the four-headed image of the Hindu God 'Brahma' to grant their wishes.
To reinforce the wish or express appreciation to the God, they will donate wooden elephants or hire a group of Thai classical dancers to perform a dance with live music.
The number of dancers and the length of the performance are directly tied to the generosity of their donation.
All around plumes of incense smoke rise so thickly that they overcome the traffic fumes at this busy intersection.
To get to the Erawan Shrine
: Take the Skytrain to Ratchadamri station and follow the signs for the Erawan Grand Hyatt Hotel. It's right outside.
Tell your friend about this page!
-
Hotel search