Unusual attractions in Bangkok, Thailand - Strange & Weird
At that time, there was a couple, husband named Nai Mak (literally "Mr. Mak") and wife named Nang Nak (literally "Miss Nak"), lived together at Phra Khanong area. One day, Mak was called off to war in central Bangkok and unwillingly left Nak, in the meantime was pregnant, alone.
When the delivery was due, a midwife came to help Nak to give birth to a baby, but the baby was in breech position that caused her and the baby she was carrying to died during child birth
[+]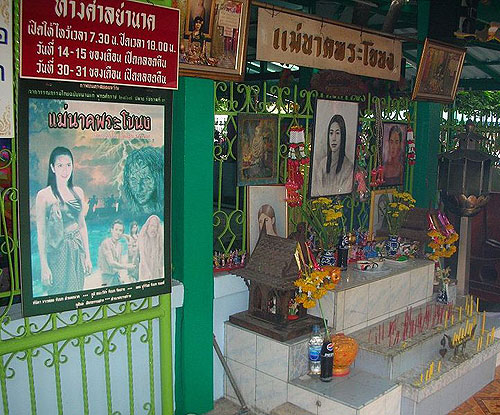 The Shrine of the Cobra Queen and the Kids located at Rama2 Rd (Soi 48) is another shrine that many people come to praise – and hopefully bring good luck.
Over 30 years, the legend of the Shrine of the Cobra Queen was talked about.
Starting with the building of the Rama 2 road, and after building to 5-6th pole, a strange incident occurred.
One worker dreamt that the Cobra Queen came to ask for 7 more days because she's pregnant and would like to bear the baby first and then move to other place.
The worker panicked and then got up and told of the incident to his leader.
But the leader believed that it's just a dream and let that worker continue doing his job.
[+]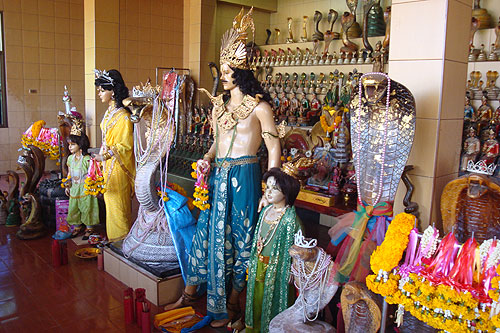 The Maeklong Railway market has recently come to the public eye due to exposure on YouTube, which shows vendors and customers seemingly running for their lives as a train literally chugs through the market, apparently threatening mayhem to everything and everyone that is in the way.
It is a Thai market and has the unusual distinction of lying along and literally on a fairly busy railway line.
Eight times a day, seven days a week, a train passes through the market and venders have to quickly remove their stalls and wares – mostly fish, vegetables and other food items - to make way for the train! And, of course, shoppers have to be quick on the feet, too.
As soon as the train passes through, the venders set up their stalls and wares, and customers return and business resumes.
[+]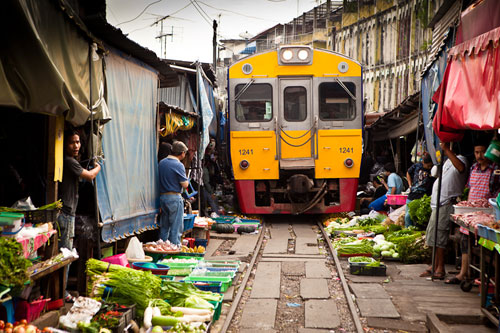 Boiling cooking oil is an important part of Thai cooking and something almost all chefs and cooks must take precautions when using… but not Mr. Kan Trichan of Chiang Mai, Thailand.
Mr Trichan, who specializes in preparing fried chicken treats, has discovered he has the ability to dip his hands into boiling oil without suffering any burns or blisters whatsoever.
Now fifty years old, he has been doing this ever since he learned he had this rather strange but useful ability...
[+]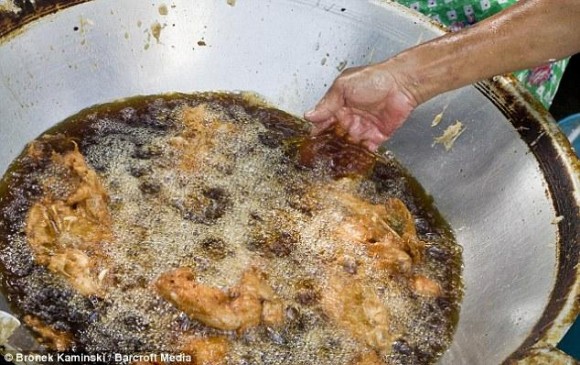 What do you say to a beautiful woman…who turns out to be a man? Well, this situation happens rather frequently in Thailand and it happened recently on the popular talent contest television show, "Thailand's Got Talent." ..
[+]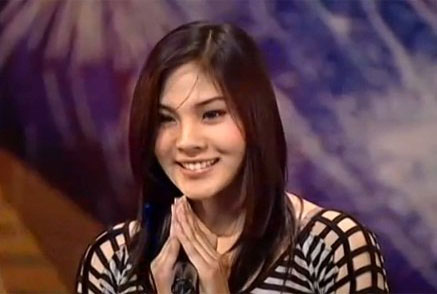 Being different can be a blessing or a curse, or both. Being different has not been easy for 10 year old Supatra "Nat" Sasuphan.
A resident of Pranakorn, Thailand, Supatra has suffered from a very unusual medical condition which causes excessive hair growth on her face.
This has caused her a lot of pain and suffering over the years as other children and classmates have called her names such as "monkey face," "wolf girl" and "wolfy;" and strangers have stared at and pointed at her in the street and in shopping malls.
[+]
For many years Thailand's famous ladyboys – men who dress, groom themselves and behave like ladies – have had their ladylike feet placed firmly on the ground as they worked in various service occupations, pranced in beauty reviews, walked to meet new friends and sometimes ran from the police.
Now, a new Thailand airline, PC Air, is trying to put ladyboys in the air. It is seeking them out to work as flight attendants.
[+]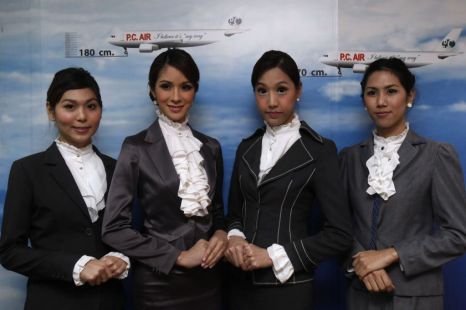 What do you say to an elephant, covered with paint, who is splashing you with water? Probably nothing, but during Thailand's Songkran, this happens… a lot. It is okay to splash back.
[+]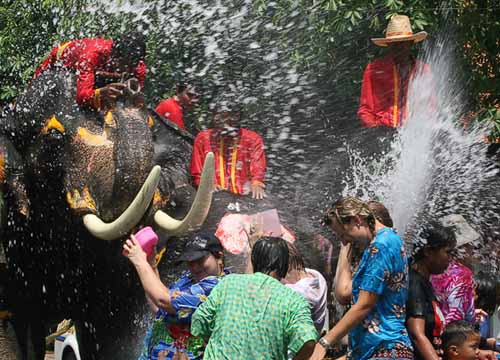 Tell your friend about this page!
-
Hotel search