Fortune Town Bangkok - IT Mall
Fortune Town is a mix of hotel, shopping mall and supermarket, located right next to the Phra Rama 9 MRT station.
Being easy to get to since the MRT opened a few years ago, Fortune Town has grown into a very popular place to look for electronics, cameras and mobile phones.
There are 3 floors, but they stretch from the hotel across to the supermarket, so there are plenty of shops to choose from.
The mobile phones are mainly on the second floor, with the computer gear on the third.
There are shops selling computer parts such as motherboards, cases and CD/DVD inserts for laptops, so it is a place where genuine computer techies go to build their own systems.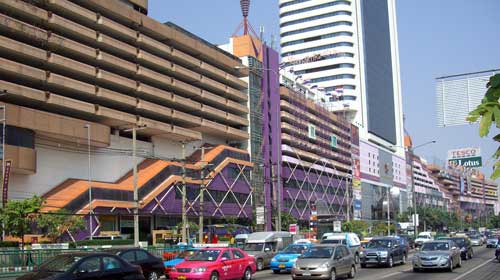 If a new mobile phone is on the shopping list then there are enough outlets here to satisfy just about every taste in tele communications.
In amongst these outlets there are software sales going on where your order is collected about ten minutes after the purchase is made.
On the ground floor are the more regular shops and fast food places such as Macdonalds, Chesters and KFC.
There are two small food halls selling Thai dishes, close to the supermarket entrance.
Try out our
CAS-001
and latest
000-669
courses to get high flying success in final
LX0-101
and
220-802
exams; our
640-722
is also very useful tool.
Tell your friend about this page!
-
Hotel search