Cost of living in Bangkok
Bangkok is definitely one of the most affordable capital cities in the world to spend time, either short or long. Accommodation is priced very reasonably and is often relatively cheap compared to similar facilities in Europe or America.
If you are travelling on a budget or simply don't want to spend too much on accommodation, you can get a bed in a hostel or
guest house
 for only 300 or 400 baht.
But even if you prefer to have some luxury and the comfort of a four or five star 
hotel
, you will find that these often offer very good deals. Where else can you book a nice room in an up-market, four star hotel for 2000 baht (40 euros) or so?
Getting around Bangkok
 is also very affordable, especially if you use the public transport buses. Granted, these are often overcrowded.
To get around a bit more comfortably, you can opt for the Skytrain or metro, which is fast, convenient and cheap. Or you can take other forms of transport like tuk-tuks and taxis, the latter being comfortable and airconditioned and again quite cheap.
But you might want to avoid taxis during rush hours, as Bangkok traffic can be horrendous and travel times very long.
All these different transportation options will cost you anywhere from 5 baht to 300 baht or so, the latter which you would pay for a taxi to take you from the 
international airport
 to your hotel in downtown Bangkok.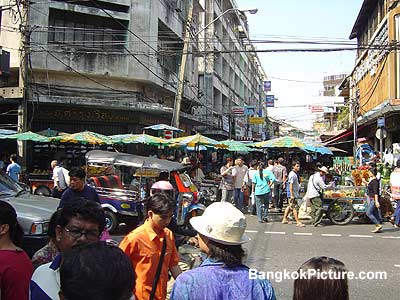 Local market in Bangkok
The next item to think about when planning your budget to visit Bangkok is of course food. And if food is one of your favourite things in life, Bangkok is the place to be.
You can find the complete range of food here, from local Thai dishes to the most exquisite French cuisine.
Of course, the cost greatly depends on what kind of food you have, and where you have it. You can eat for literally a couple of baht by buying food from the hawker stalls along the roadside.
You can have a meal at one of the many food courts, which you find in various places including shopping centres. You can choose between the many international fast food restaurants, which offer the same type of meals which you would find back home but often much cheaper.
Or you can opt for dining in the many restaurants around town.
The most expensive option for dining in a restaurant would be those in luxury hotels. But even then the bill would probably be lower than in a similar restaurant in Europe or America.
Bangkok is a great 
place to shop
 and you will be able to find many items for much lower prices than 'back home'.
Apart from the usual souvenirs and popular luxury items such as mobile phones, cameras and fashion clothes, you can find very affordable items for everyday use, such as simple clothing.
The low prices of services and goods here make it also much more affordable to spend a longer time in Bangkok or Thailand.
The cost of living in Bangkok really depends on your lifestyle, but from above information you hopefully get the idea that this can be very low on a daily basis, especially if you lead a lifestyle that closely resembles that of the locals.
Sample prices of stuff in Bangkok, Thailand
A loaf of bread
25 Baht
A can of Coke
14 Baht
A pack of Marlboro Cigarette
75 Baht
A can of beer in a nightclub
100-300 Baht
A plate of fried rice
30 - 35 (street vendor)-100(a proper restaurant) Baht
Tell your friend about this page!
-
Hotel search