Bangkok Airport Rail Link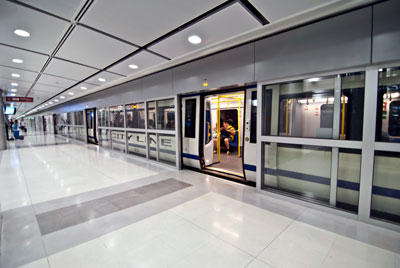 The Bangkok Airport Rail Link opened in 2010 and is a welcome addition to the city mass transit system. It operates 18 hours a day and extends 28 kilometers, connecting the Suvaranabhumi Airport to central Bangkok.
It enables international travelers to travel between them in a fast, timely, convenient, and inexpensive manner, thus avoiding traffic jams and the notorious taxi mafia. It also benefits residents of metropolitan Bangkok who never fly anywhere in that it links previously neglected eastern Bangkok with the rest of the city.
There are two parts of the airport link. One is an express train, which runs between the airport and the Makkasan Station without any stops in-between. The other, the City Line, makes six stops between the Suvarnabhumi Station and the westernmost station.
All stations operate from approximately 6:00 Am to midnight. 
The Express Train:
 the express trains – there are four of them and each train has three passenger cars and one baggage car - cover the distance from the Makkasan Station to the Suvarnabhumi Station in approximately 15 minutes, cruising at speeds of around 160 kilometers per hours.
Trains depart from Makkasan and Suvarnabhumi on the hour.
The cost for the service is 150 baht. This seems rather high when one considers that the cost of the City Line train from Makkasan is only 35 baht and doesn't take that much longer.
A big selling point of the Makkasan Station is that it is also the "City Air Terminal" and one can do their check-in at this location, BUT only passengers of Thai national carriers can use this service, which means, more likely than not, you can't! Another problem with this location is that, while there are nice hotels, a MRT underground station, and some BTS Skytrain stations within three quarters of a kilometer or so, walking to these places – especially with luggage – is very difficult.
It is necessary to go to and from these places by taxi or bus.
This location was probably chosen as the western end of the express system because the Thai National Railway, which manages the Airport Link, already maintained facilities in this location and there was sufficient land for adding more facilities.
All riders of Air Link transportation should be aware that neither the BTS Skytrain nor the MRT Underground operates past 12:00 midnight. 
The City Line:
 this service departs from Suvarnabhumi Station and the Phaya Thai Station – which is two stations west of Makkasan Station - every 15 minutes. The journey takes 27 minutes.
The cost begins at 15 baht for the nearest station and an additional five baht fee is added for each additional station traveled to. Thus, the maximum fee, which is for a journey between Phaya Thai and Suvarnabhumi stations, is 45 baht.
The City Line stops at the following six stations between Phaya Thai and Suvarnabhumi: Ratchaprarop (next to Phaya Thai), Makkasan (City Air Terminal), Ramkamhaeng, Hua Mark, Bang Thap Chang, and Lat Krabang (last stop before Survarnabhumi Airport). 
In at least some respects, the 
Phaya Thai Station
 is a more appropriate ending to the line - and would make a better conclusion of the express system – than the Makkasan Station.
At the Phaya Thai station, riders can transfer directly to the BTS Skytrain – they do NOT have to leave the confines of the station or descend to the ground level and then go up again.
The process of changing trains is extremely simple and convenient. The Skytrain goes to and from the Silom Road- Sathorne Road area, and to many stops on Sukhumvit Road as well as Morchit in north Bangkok.
Riders on the Skytrain system can transfer to the MRT Underground system which can take them to the Hualamphong Railway station and Latprao Road.
Express train riders should be aware that neither the Skytrain nor the Underground operates after midnight. 
In at least some ways, 
Phaya Thai
 is more centrally located than Makkasan station. It is midway between Victory Monument, and the Siam Square-MBK Mall shopping areas.
Both of these are within walking distance of the Phaya Thai station…although perhaps not with suitcases!! It is also within walking distance of the Pantip Plaza electronics mall, and the Pratunam markets.
There are several three star hotels nearby, some within easy walking distance. Thus, this station might make a more suitable beginning or ending point than the Makkasan Station. 
Between Phaya Thai Station and Makkasan Station –about one kilometer from each - is 
Ratchaprarop Station
. It is about two kilometers north of Sukhumvit Road and the Central World Plaza-GaysornPlaza- Erawan Shrine luxury shopping area, It is less than one kilometer from the Pratunam markets.
Several midrange hotels are nearby and there are five star hotels around the luxury shopping areas. Dindang Road begins a short distance to the north and Victory Monument is about one kilometer to the west.
This is another station worthy of the attention of international travelers and local residents. 
East of Makkasan Station is 
Ramkamhaeng Station
. It is probably of little interest to international travelers but is important to local residents.
Ramkamhaeng University is located one to two kilometers directly north on Ramkamhaeng Road, as are three or four large shopping malls, and many, many low priced apartments.
There is an international sports stadium just north of Ramkamhaeng University. Assumption University is also fairly nearby. 
North of Srinikarin Road and close to the Pattanakarn intersection and the Bangkok-Chonburi motorway is 
Hua Mak Station
. A large private university, Kasem Bundit, is within a two kilometer radius. This station would be of much more interest to local residents than international travelers. 
Between Hua Mak Station and the last station (Lat Krabang Station) before the airport is 
Bang Thap Chang Station
. This is primarily a residential area, and thus of little interest to international travelers. 
The last station before the airport is 
Lat Krabang Station
, which is adjacent to King Mongkut's Institute of Technology and north of Lat Krabang Train Station. This area is fairly residential.
There are some airport hotels in the general area but they might be closer to the airport than to Lat Krabang, so all interested in staying in the area overnight should check this out carefully.
Tell your friend about this page!
-
Hotel search