Thai Driving License - Drive in Thailand
Getting a license to drive in Thailand doesn't involve taking a driving test, as long as you have a valid driving license from your home country.
The validity of that license should be confirmed by your own Embassy.
However, getting the license does involve quite a lot of beurocracy, paper work and a few non driving tests such as eyesight and reflexes.
Having a Thai driving license is fairly useful, and often helps the visitor to avoid fines from police who may see the foreigner in Thailand as "easy pickings".
Theoretically anyone living in Thailand for more than three months should have a Thai drivers license.
The first regulations are that the person should have a Non Immigration B Visa, be in good health and be over eighteen.
The forms are in Thai, so an interpreter is needed to complete the paperwork.
Copies of the passport pages with the applicants details and the visa page have to be signed along with the last entry date page.
Add to this a letter from your home Embassy confirming your residential address, and we can see the paper work is building up.
If you have a work permit, then some of these form are not required - it's best to be prepared though and have as many documents ready, just in case.
Better to have too many signed forms than too few and as anyone who has been in Thailand for any length of time knows, forms with appropriate stamps and signatures go a long way!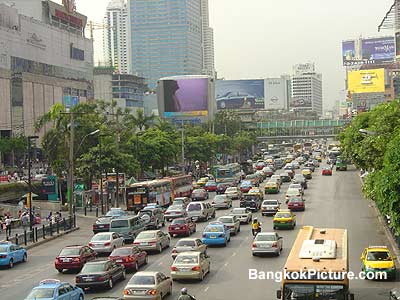 Bangkok Traffic Jam
So, to the test itself.
There's no suggestion that you are not capable of driving a vehicle, if you already have a valid license from your home country, so the test is more about health issues.
A doctors certificate is required which is no more than 30 days old, signed of course by the doctor stating that you are in good health and do not suffer from any physical or mental problems.
This is similar to the one you will have paid 100 Baht for in the early days of living in Thailand.
Two passport sized photos are also on the list of requirements.
- There is a
color blindness test
involving lots of colored dots.
- Next is the braking test to see if your
reflexes
are OK. Hit the brake pedal and stop within the right distance and you pass. The test is repeated, just in case it was lucky the first time.
- Finally there is a
depth perception test
, to see if you can judge distance.
Classes held at the Department of Land Transport which highlight the rules of the road, and have information on driving safely in Thailand.
The classes are held between 9.30am and 1pm daily. There was some information around that if a person failed a written test, then they were asked to do it again, but with the answers alongside.
No confirmation of this has been verified and the test is regarded as unnecessary for those who have already passed a driving test.
Having passed these tests, the license is then issued as a one year temporary drivers license at a cost of 105 Baht.
The main place to go for the tests and license issue is the Department of Land Transport 1032 Pahol Yothin Road, Bangkok
The Department of Land Transport
, 1032 Phaholyothin Road Jatujak Bangkok 10900 Tel: 02 272-5322, 272-5493.
Sub offices for the test are at:
Transport Office Area 1, Soi Wathuakrabue at km 4.5, Bangkok 10150
Tel: 02 415-7337
Transport Office Area 2, 51 Moo 5 Suanphak Road, , Bangkok 10170
Tel: 02 882-1620 to 35.
Transport Office Area 3, opposite Soi Sukhumvit 62/1, Bangkok
Tel: 332-9688 to 960.
Transport Office Area 4, 102/11 Liabwaree Road, Kokphad Bangkok 10530
Tel: 02 543-2010 to 12.
Tell your friend about this page!
-
Hotel search