Guide to Golf Courses in Bangkok
Whether visiting Bangkok for business meetings or as a tourist, a game of golf is available on some of the finest courses in Asia, catering for everyone, whether beginner or professional and whatever their degree of skill And many a business deal has been agreed while enjoying a stimulating game of golf in Bangkok with one's business associates.
The Royal Bangkok Sports Club
is deep in the heart of Bangkok. Anyone travelling on the Skytrain from Siam Square to Silom will have noticed the lush lawns of this prestigious venue. As at the time of writing, this club is for members only.
The membership is inexpensive by international standards, and the course, while not terribly challenging, is extremely popular and convenient (
www.rbsc.org
)
Another option is the
Royal Thai Army Sports Centre
. There are two courses from which to choose, each offering its own unique challenges. Being so close to Bangkok means that this is an extremely busy club.
Making a reservation for your tee off time is highly recommended. Weekday charges are 1100 bt (about 22 euros) for green fees and caddy, and 1400 bt (about 28 euros) at weekends. The first tee off available is 6 am.
The new course is beside the old course and is ideal for most golfers, mainly due to the location and design. As a contrast, the original course has a history of more than 20 years in Bangkok.
The facility was originally developed for the use of army officers, in order to encourage them to include sport in their lives. There are many mature trees on this interesting course, which is open to the public and extremely popular.
If you are looking for a nice 18 hole course located not too far from one of the two international airports serving Bangkok, then the
Kantarat Golf Course
, located at the Royal Thai Air Force Base at Don Muang, may suit you ideally. Green fees for visitors on weekdays is 500 bt (about 10 euros) and 800 bt (around 16 euros) at weekends. These prices include caddy fee, and the first tee off is 6 am.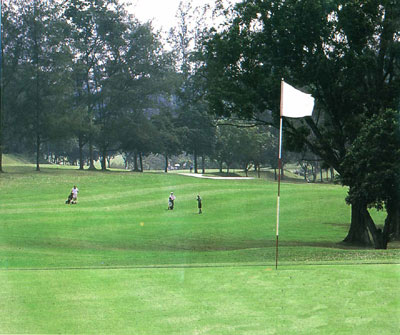 Krungthep Kreetha Golf Course in Bangkok
One of the oldest golf courses in Bangkok is
Krungthep Kreetha
. This course has an attractive layout and has recently been rebuilt. Incorporated into this challenging course are hidden water hazards. The mature trees beside the fairway ensures only accurate tee off shots will make it! This course has the reputation of having some of the best elevated and truest greens in Thailand. The new clubhouse serves food and service is excellent. Fees are 1100 bt (around 22 euros) weekdays, and 1600 bt (around 32 euros) at weekends.
So whatever your reason for visiting Bangkok, there is plenty of opportunity to have a challenging game of golf, followed by a refreshing drink and bite to eat, before heading off to enjoy the Bangkok nightlife, or seeing some of the other many attractions this amazing city has to offer.
Click here for golf tour packages around Thailand
Tell your friend about this page!
-
Hotel search